2021—Here We Come!
Jan 03, 2021
You don't need reminding that 2020 brought a heap of surprises.
For the crew of Pristine, the year meant a series of unexpected pivots. We didn't cross an ocean or frolic among the atolls as we'd planned, but like many curveballs, 2020 brought gifts to the back door even as it stole the silver out the front.
Our last days of normalcy happened in March as we finished gearing up and provisioning before setting off across the Pacific. Then they closed the Pacific.
We watched from the stellar Wi-Fi at Marina De La Paz as the entire world turned upside-down, extending our stay a dozen times as we batted around the Now What? question.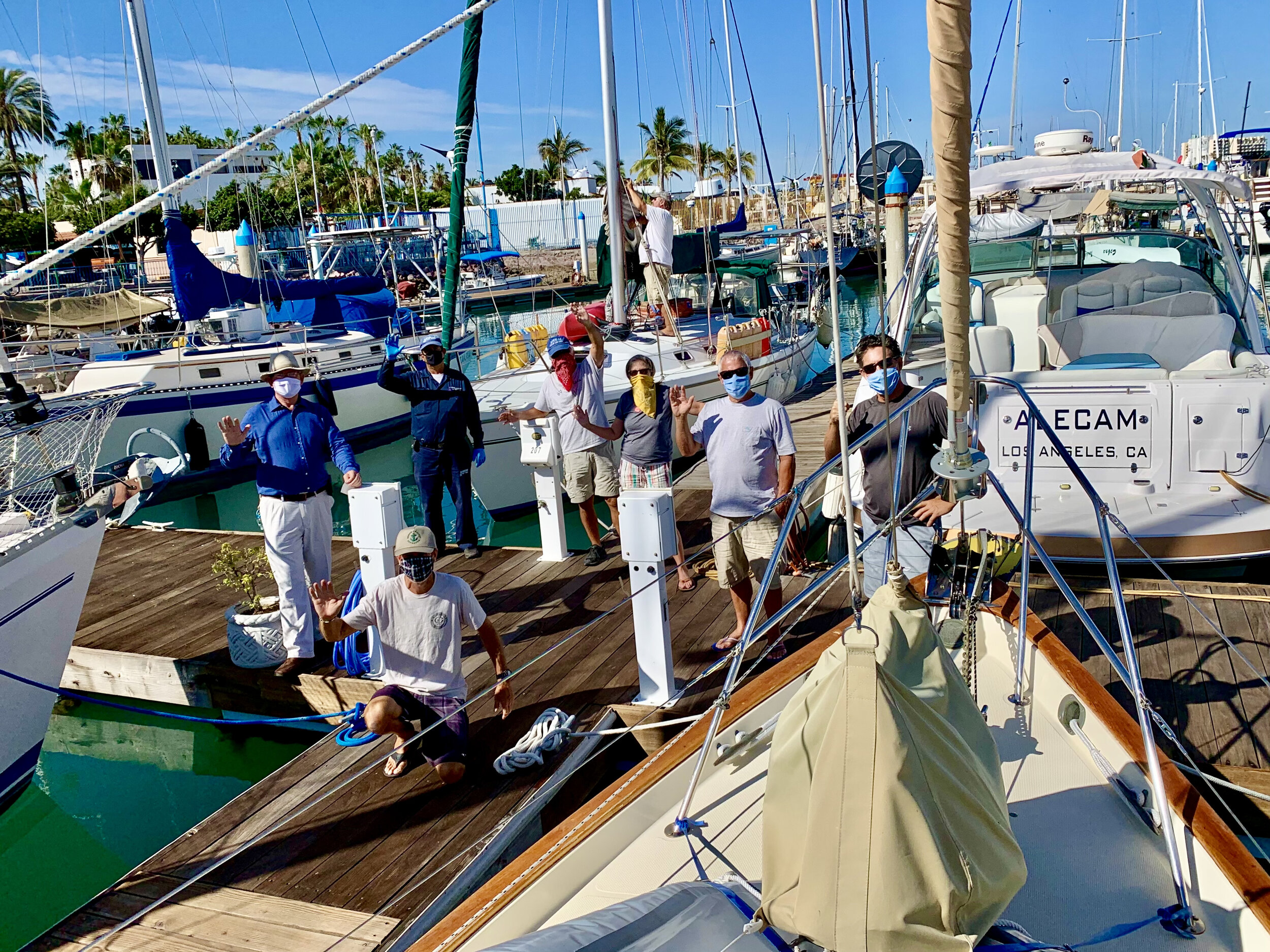 It was truly hard to leave La Paz. Especially the people.
Pivot 1: By June, we'd decided bashing back to California was the right option for us, and after a long, cold, bumpy ride, made it to San Diego. With the gift of amazing new friends.
Pivot 2: In July, reaching our live-aboard time limit in San Diego, we quarantined for several weeks off Catalina, which was as beautiful as we remembered. We ran into several long-range cruisers doing the same U.S. reset, and got to see Colin's sister and her family aboard MV Gordo, the best boat name ever. All wonderful gifts. However, all from dinghy distance, and we realized cruising without the ability to interact with people, up close and personal, was as much frustrating as fun—like visiting a Paris bakery and being forbidden to eat anything.
The Russo clan (clockwise from upper left Brian, Cate, Sheila & Gwen) on Gordo
Can't beat the scenery or the company of such veteran cruisers, but shouted hellos and good wishes were as close as we could come to conversation.
Pivot 3: By August, we'd taken a slip for Pristine in San Pedro and set off for land-based life. We seriously considered selling the boat as the potentially smarter financial move, considering she will be marina-bound for some time. Even as some borders opened, we knew we wouldn't fully enjoy cruising until social intimacy was the watchword again. Meanwhile, we imposed ourselves on the generosity of parents for temporary crash pads, and gained tons of quality family time.
Me and my mom Suzanne breathing in the redwood vibe at Henry Cowell state park. It was our last deep breath for a while. The day after this photo, the Santa Cruz mountains were ablaze. This lovely grove behind us survived, but many others like it did not.
Colin and my stepdad Brian building a motor mount for our outboard.
Colin and his mom Deirdre, celebrating a distanced birthday number 86 with his two sisters Sheila and Pauline.
Pivot 4: By September we'd decided that while taking a break from cruising was in order for the pandemic, selling Pristine was too hard to contemplate. Money is only money. In the short term, we'd embrace day sailing again and consider a home base.
Pivot 5: In October, I used all that extra time to finish writing a novel I'd been working on for two decades (more on this below). And gifted the consistent Wi-Fi of land life, embarked on a year-long training program to become a health coach, following my long-standing passion for wellness. Having experienced firsthand the incredible vitality that can come from even minor lifestyle changes, I'm deeply excited about helping others feel that healthy energy vibe too.
It's not as sexy an accomplishment as the drone shot of us anchored off Hiva Oa we'd hoped to share this year, but this one is plenty meaningful to me personally.
Pivot 6: Continuing on the theme of health, in November our land-based life gave Colin the opportunity to get hip surgery and fix a fast degeneration that had made surfing impossible. Poor guy hadn't even been able to tie his shoes. Now he's healing fast and already scheming about how quickly he can be back in the line-up again.
Pivot 7: By December, we decided on the location of that home base. Come spring (or whenever circumstances allow), our plan is to rent an apartment in San Diego near Colin's son, Aidan. Father and son together again. Best gift of all.
Phew. I won't pretend it was an easy year, but I gotta say, we've gotten pretty good at the pivot. Solid marks for Team Pristine. All that time in Mexico, learning to submit to the will of the weather gods, must have taught us something. But the biggest lesson of all, one that is ongoing every single day, is gratitude for what we have in the moment.
Don't get us wrong. The pandemic has stolen a lot more than silver for two million people and counting across the globe. And it's outrageously easy to denigrate gratitude as a mindless, new-age platitude. Fair enough. But savoring each sunrise we get to witness? Each moment we get to spend with a loved one? All we need to do is consider the alternative. As of this moment, we're still here. That's worth giving thanks for.
So are we done pivoting? Tomorrow we will know what tomorrow brings. For the moment, we're jazzed about Chey's novel and health coaching, and for Colin's return to surfing.
And for everyone else, we truly hope any pivots you've had to make, or will make, bring many gifts along with the transition.
Fair winds and following seas, dear friends,
Colin & Chey
Boy Meets Killer
Read the first five chapters of The Prisoner's Apprentice — the award-winning novel based on the shocking true story
Yes, please!
Want to Know How My Novels are Written?
....................

Get a monthly behind-the-scenes peek into the writing process and just-between-us secrets about upcoming books.