Mother Nature Brings Her A-Game
Mar 02, 2019
The cruising life involves some hefty contrasts.
After a week surrounded by beach umbrellas and construction cranes, Colin and I sailed a mere 90 miles and arrived 9,000 years back in time at a prehistoric island dubbed the Galapagos of Mexico.
As dawn broke after an overnight passage, craggy volcanic towers rose from the deep, their contorted shapes testifying to a violent origin. Our destination sat just behind them, covered in scrubby lime trees sat the World Heritage Site of Isla Isabel. The sky above swarmed with the reason for our detour from food, culture and surf breaks: thousands of seabirds.
More than mere access to a nesting site, the birds here have no natural predators so they're not only thriving, they're perfectly happy to let you get close. That sounded cool enough to us to warrant a pit stop. We didn't realize this was about to become one of our favorite places on the planet.
Pristine at anchor in the stunning Bahia Tiburones of Isla Isabel
Before we could explore, though, we had to attempt our trickiest anchoring ever. If you're a sailor, you know that contrary to popular belief, it's not the weight of anchors that hold a boat in place. It's their ability to wedge themselves into the bottom. While anchors bury well in sand or mud, on rock they tend to either bounce across the top or wedge themselves into a crevice so tightly that you may have to cut away your anchor to leave.
And the bottom at Isla Isabel? The reason so many cruisers skip this otherwise perfect island?? Nothing but rocks, rocks and more rocks. The guidebook notes helpfully that more anchors are lost here than anywhere else in Pacific Mexico. Cliffs encircle the tiny cove on three sides, and day and night, booming waves crash into them. If we were going to stay, we had to trust that our anchor or else our beautiful boat could turn into fiberglass confetti. Let's just say we had a wee bit of anxiety about putting our hook down.
We'd attached a trip line, tied to the crown of the anchor with a float—in our case a glamorous empty detergent bottle. Theoretically, if your anchor gets wedged under a rock, a trip line lets you tug at it from the other end, hopefully freeing the sucker. The float also has the added benefit of making clear exactly where your anchor is in relation to your boat so that when you wake up in a cold sweat in the middle of the night, sure you're dragging into that pounding surf, you can reassure yourself with a quick glance out the porthole and go back to sleep.
But first you have to set it well. We made so many slow passes around the cove looking for a suitable spot that when we pulled up our track line on the chart plotter, we'd drawn a perfect bird's nest.
Finally realizing there simply was nowhere great, we dropped the anchor in the best mediocre spot we could find and let the boat blow down as we payed out the chain. We were already discussing contingency plans when Pristine drifted to a stop.
With a hand-bearing compass, I confirmed we weren't moving as Colin shifted into reverse and slowly increased the throttle until we were approximating the force of a small gale. We didn't budge an inch, but with a hundred feet of chain out, our laundry bottle floated only ten feet from our bow.
Huh?
We donned masks and snorkels to solve the mystery. Improbably, the anchor had found a small crack to wedge into (yay!), but then the chain had wrapped itself 90 degrees around a boulder, then 90 degrees around another boulder, making a rectangular u-turn. The boulders essentially acted like turning blocks, dramatically increasing the holding power of that one little crack. It was far from textbook and we couldn't do it again if our lives depended on it, but Pristine wasn't going anywhere.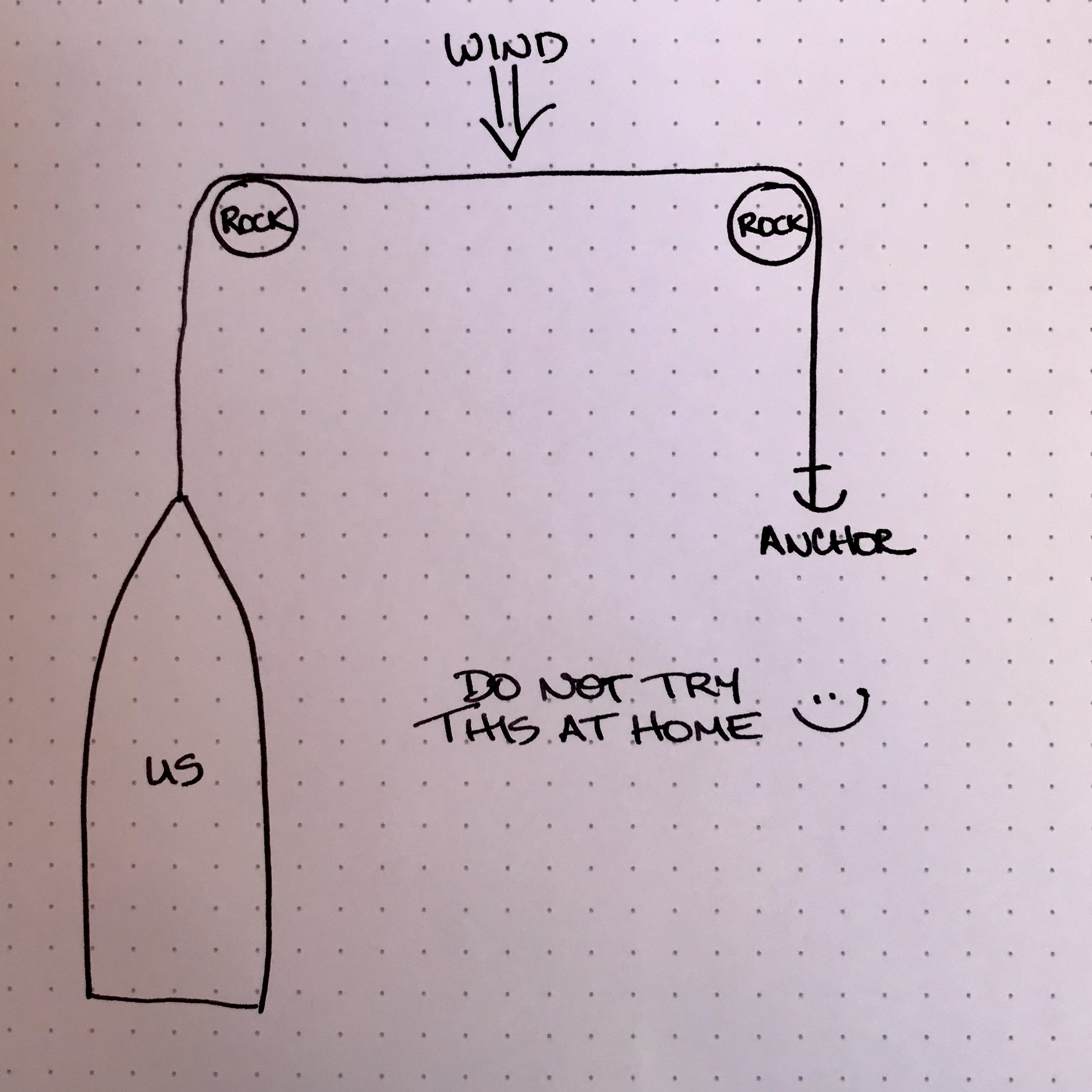 That didn't mean we felt a hundred percent confident in our Immaculate Reception. We found plenty of reasons to spend two days never leaving Pristine's side. Surely it was time to clean the bottom again. There were meals to be prepared, stainless steel to polish, cabin soles to be cleaned, fisherman to watch, zoning out to be done.
Scanning the horizon at one point, I tried to make sense of how a massive grey submarine was levitating for several long seconds, until the splash confirmed that 25-ton humpbacks can actually fly. Biologist, I clearly am not.
Colin with a double shot of bliss
Finally, when multiple anchor dives each day showed that nothing but nothing was endangering the unique setup we'd achieved, we launched the dinghy and rowed ashore. A fish camp, a few hiking trails, and a small student building were the only signs of humanity. The rest of the population was entirely avian and reptilian. And while the iguanas were a touch skittish, the nesting birds treated us as one of their own—so much so that we could have stepped on them before they would have uttered a sound.
The most populous are the magnificent frigate birds, the most graceful soarers and majestic divers, named for the fastest 18th century French warships. For months now, we've loved watching their swooping passes around the boat and Olympic-worthy dives into the ocean (no splash!), but were thrilled by the opportunity to be voyeurs into their home lives.
While we walked by, feet from their tree-top living rooms, did they squawk? Flap their wings? Give us the evil eye? No. They calmly fed their chicks, redesigned nests with chic new twigs, courted mates, and sat blissfully staring out at the ocean. It felt almost like they pitied us poor, misshapen birds born without wings and were trying not to stare.
If the frigates are the ballerinas of the air, the other notable flock of Isla Isabel are the Three Stooges. The Conquistadors were amused that this species didn't have the sense (modern translation experience) to run away. They called them bobos, roughly translated as dummies. We eventually came to know them as the magical blue-footed boobies.
These little guys walk on big gangly feet like drunken sailors, make grunting noises one would typically associate with pigs, and whistle like broken teapots. Like penguins, they are such characters that you can't help but fall in love at first waggle.
Instead of nesting in trees, they lay their eggs directly on the ground. In place of twigs or straw to make a cozy incubation spot, they build insulation with their own poop and a roof from their big blue feet. You gotta give it to them for resourcefulness.
Besides the birds, the earth of Isla Isabel itself is amazing. The extinct volcanic crater is now a lake, surrounded by angular conglomerate rocks that were once exploded into bits, then super-heated back into a new solid.
But wait, there's more! We found this treasure island to be just as much a paradise below the surface. Crystal clear water, scurrying crabs, Mexican barracudas, rainbow chubs, king angelfish and especially a school of more than a hundred yellowtail surgeonfish made me work hard on my mediocre free diving skills to hang with them, 20-odd feet down.
We couldn't have been more grateful for the opportunity to be awed by Mother Nature, again and again and again. We're also thrilled to report that when it was time to leave, our anchor miraculously came up without an issue. Phew! It's back to sandy bottoms from here on out. (Knock on teak.)
Fair winds and following seas, dear friends.
Where Are We Now?
We'd initially thought of Mexico's Nayarit coast as a way to break up the transit to Banderas Bay but are finding its picturesque coves, homemade tortillas, chilled out people and all-but-empty surf breaks are holding us here like a magnetic field. This is the genuine joy of cruising. We have no idea when we'll be moving on. When we feel like it, I guess.
Shout Outs
Many thanks to Darién from the Comisión National de Áreas Naturales Protegidas for helping us find the trails and dramatically improving our amateur ornithologist credentials. And massive thanks to Sailing Pristine's primo photographer, Colin Ross, for the amazing pix. Folks—if you ever dig an image we post, you can be all but certain that photo credit goes to him. :)
Boy Meets Killer
Read the first five chapters of The Prisoner's Apprentice — the award-winning novel based on the shocking true story
Yes, please!
Want to Know How My Novels are Written?
....................

Get a monthly behind-the-scenes peek into the writing process and just-between-us secrets about upcoming books.